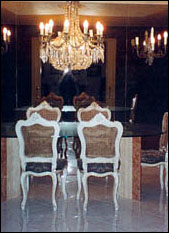 BancoPropiedades is a company assisted by its owners that work hard for the client in giving a personalized attention and dedicated to the client.
Our company offers real state services in the area of sale or lease (furnished or without furnishing) of commercial properties, residence, departments, stores, offices, cellars, among others.
In the sector El Golf and Providencia we characterize ourselves in the lease of properties with or without furniture for executives of high level. This can go from one month until the client requires it.
We count with a bilingual staff and a sales team qualified to give a privileged attention to our clients. This has the support of professionals of the real state area that they offer an integral consultantship to optimize the real state requirements of the clients.